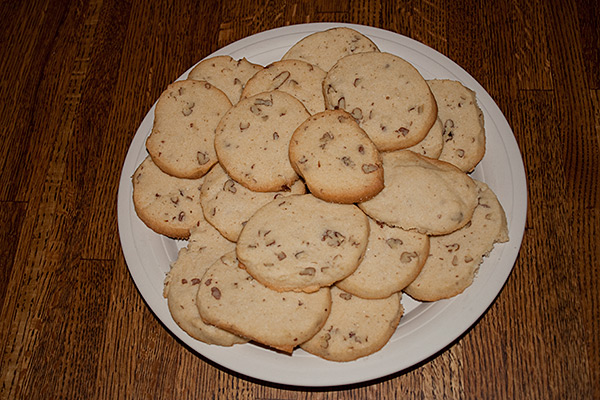 My mother's Pecan Sandies have been a Christmas tradition for years. They are unbelievably rich and unbelievably addicting. They don't last long around our home.
What You Need
2 1/4 cups flour
1/2 tsp baking powder
1/4 tsp salt
1 cup butter or margarine
1 cup sugar
1 egg
1 tsp vanilla
1/2 cup finely chopped pecans
Putting It Together
Combine flour, baking powder, and salt. Set aside.
In mixer bowl, beat margarine for 30 seconds. Add sugar and beat until fluffy. Add egg and vanilla; beat well.
Add flour mixture to beaten mixture; beat until well blended. Stir in pecans. Cover; chill 30 minutes. Shape dough into two 7-inch long rolls. Wrap in wax paper or clear wrap. Chill several hours of overnight.
Cut into 1/4-inch slices. Place 1-inch apart on ungreased cookie sheet.
Bake at 375° for 10-12 minutes or until light brown. Cool about 1 minute and then remove to wire rack.
http://hobbystash.com/dining-in/featured-recipes/desserts/cookies/pecan-sandies/
© 2012 hobbystash.com